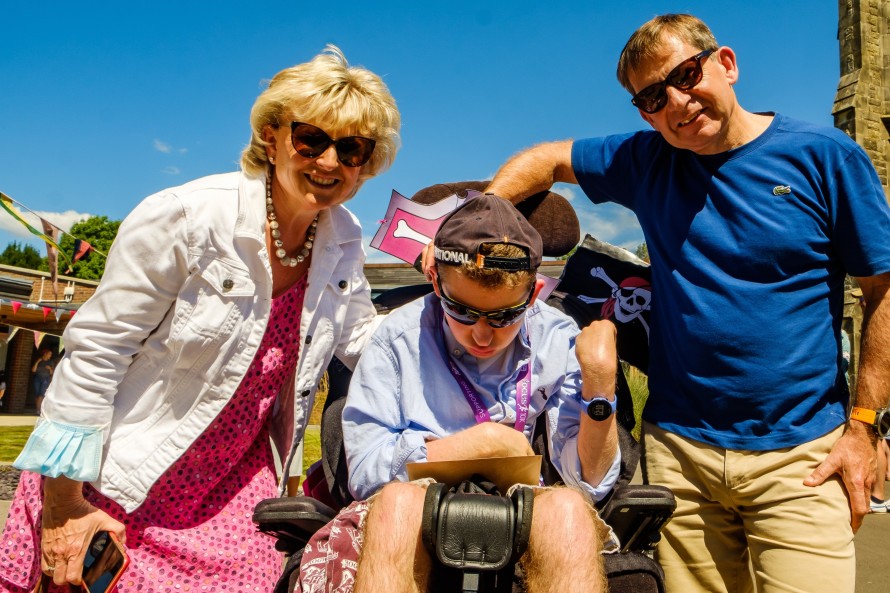 Mikey and his parents, Jenny & Andrew, who have chosen to leave a legacy to CHF in their will.
Your legacy makes a difference
Gifts in wills fund many of the life changing services and facilities accessed by the children and young people at Chailey Heritage Foundation. From our Eyegaze technology to our onsite therapy farm, Patchwork Farm, your legacy ensures a brighter future for our young people.
"I am so glad that my dear father was able to make such a lasting impact for a charity he cared deeply about" - Son of legacy supporter
What your gift could do
A gift of £5,000 could allow us to purchase a mobile Eyegaze unit to allow a young person to use this transformative communication tool around the campus. Find out how Eyegaze transformed Archie's life here.
A gift of £25,000 could transform one of our outdoor spaces like the Quad Garden used by young residents in our bungalows
A gift of £50,000 would help to fund the therapeutic riding and hippotherapy service, which makes such a difference to the young people at Chailey, for an entire year.
Free will writing offer
To make leaving a gift in your will as straightforward as possible, we have teamed up with, award winning, local solicitors Britton & Time who are offering a free will writing service to Chailey Heritage supporters.
Help us be there for more young people like Mikey, pictured at the top of this page with his Mum, Jenny & his Dad, Andrew.
" We were recently doing our Wills and wanted to leave a legacy for Chailey in recognition of the wonderful support the Foundation gives to our son and our family. Our son is a 52-week resident and Chailey has literally changed his life and ours. Our wish is that our legacy will help Chailey plan and invest for the future, so that other young people and their families can benefit in the future as we have during our lifetime." Jenny – Mikey's mum
Elizabeth Squires, Head of Private Client at Britton & Time, has a wealth of experience in helping people make the right decisions and ensuring that the maximum benefits are felt by those people and organisations that you want to provide for in your will.
To access the free will writing service call Britton & Time on 0203 007 5500, saying you are a Chailey Heritage Foundation supporter or for further information call Chailey Heritage Foundation on 01825 724752.
For more information and expert advice from Britton & Time about our Gifts in Wills service, please check out our FAQ page.