Fitness activities
Everyone should be able to benefit from exercise regardless of their disability. We work hard to get to know all of our customers and tailor each session to you.
Our experienced staff offer personalised fitness activities to help you on every step of your fitness journey. Take part in fitness activities at our accessible, 'Inclusive Fitness' accredited gym, flex your competitive streak during games sessions or try a more relaxing swim in our hydrotherapy pool.
Choose from a wide range of activities to suit your abilities, preferences, and goals:
Accessible gym
Our modern gym is specially designed for people who have difficulty accessing a traditional facility due to mobility, injury, learning or physical disability.
As an Inclusive Fitness accredited facility (IFI), we are ideally suited to support and motivate individuals toward their fitness and rehabilitation goals. Following a physio assessment, our specialist fitness instructor will tailor a training programme, set goals, and monitor progress all in a friendly and supportive environment.
Games sessions
We hold a wide variety of games sessions in our spacious Dream Centre hall from Boccia to Wheelchair Football to New Age Kurling. Games sessions are the perfect place to meet new people and develop teamwork skills.
Rebound therapy
Rebound therapy uses trampolines to provide therapeutic exercises for people with physical and learning disabilities.
Rebound therapy can help facilitate movement, promote balance, increase strength and improve communication skills.
On your first visit, we conduct a physio assessment to help us assess physical needs and construct a programme suited to your goals which is then used as a basis for your following sessions.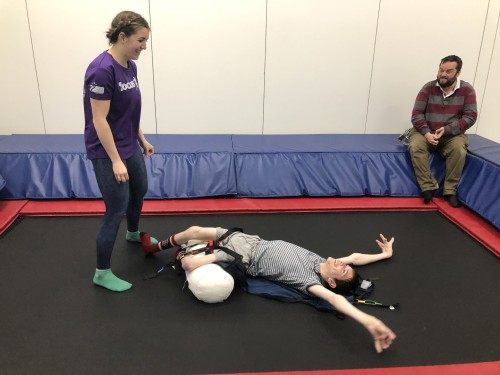 Swimming
Our accessible hydrotherapy pool is heated to 33oc and has eight full-body hoists for access into the pool. We also have steps and ramps with railings and a slide for a more exciting entrance!
The deepest depth of the pool is 1.4m. There are 12 individual changing rooms, each with full-body hoists. We also have black-out blinds on the windows, colour-changing pool lighting, music, a bubble area, and inflatables for use as per your needs.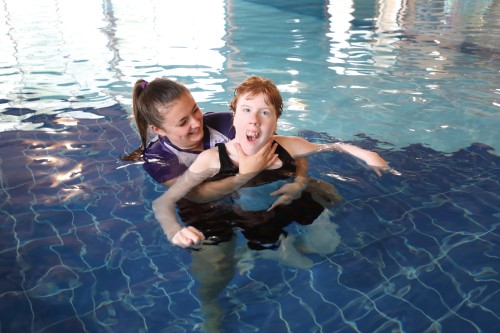 Want to take part in an activity?
Please fill out the LSC enquiry form below for the activity you are interested in and we will get back to you to book in a visit. This then gives us a chance to chat about accessibility needs and whether the LSC is the right facility for you.