Donate
Without the support of our donors, many of our specialist services would not exist.
You enable us to offer therapeutic riding, our Immersive Space and Patchwork Farm to young people as well as build incredible facilities like the Dream Centre and the Leisure and Skills Centre.
Donations help us to provide equipment that enables the young people to achieve their potential including EyeGaze, trikes and walkers.
We are also able to offer experiences which educate and amaze such as Kidenza Orchestra, Singing Hands and the Snowman Tour.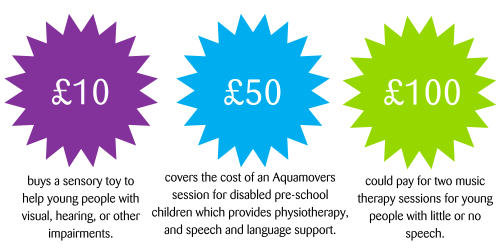 Help us to provide life-changing support for the children and young people in our care.
Read about what your donations enable us to do