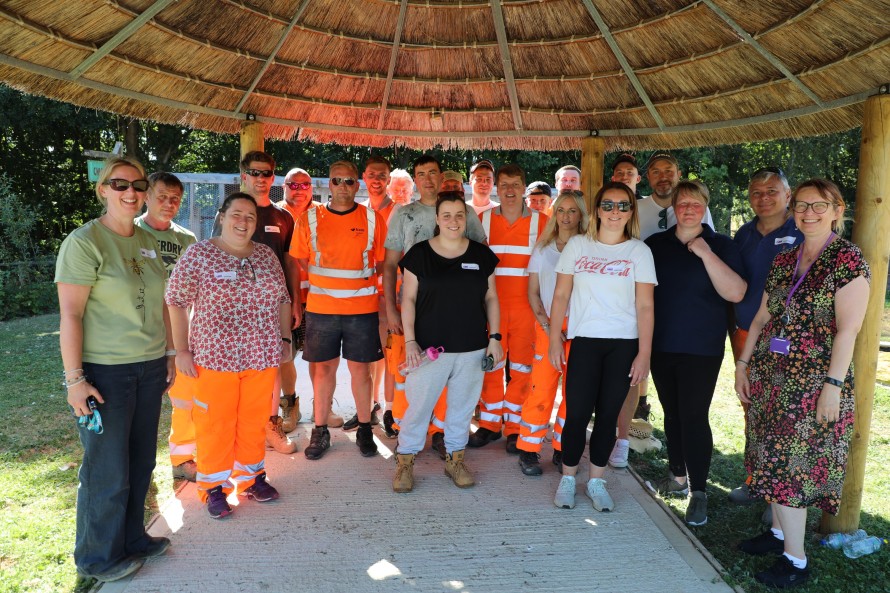 Corporates
Is your company looking to form a partnership with a charity? By choosing Chailey Heritage Foundation, you can be sure that every single penny donated will directly fund our inspiring work.
Corporate Volunteering
From time to time, we need teams of volunteers to help us. From building sheds on our therapeutic farm to helping us get on top of the gardening, your support helps young people at Chailey Heritage Foundation get the best out of life. Plus, it's great for staff team building and can also be a lot of fun. Find out more and get in touch.
Workplace Fundraising
We rely on the generosity of our donors to enable us to run many of our projects and purchase essential resources. From therapeutic horse riding to wheelchair-accessible vehicles, your funds go directly to where they're needed. Whether as part of a Charity of the Year partnership or a one-off event, we can provide you with a whole host of fundraising ideas to get you started.
Take part in one of our events
We have a range of events that you can take part in:
The Amazing Chailey Challenge – take on a virtual challenge based around the number 7 (the number of boys Chailey Heritage Foundation was started with). Walk 70,000 steps as a team, take on a sponsored silence for 7 hours – the possibilities are endless!
Focus 10k – gather a team of 4 and take on the Focus 10k corporate challenge on the 14th May 2023. A 10k run around a beautiful private estate in East Sussex.
Woolly Hat Wednesday – on the 22nd November 2023 put on your best woolly hat and donate £2 to Chailey Heritage Foundation. A super easy way to get your colleagues involved.
Gather a team and take on your own challenge – a tough mudder, an inflatable obstacle course, a half marathon – we'll be here to support you every step of the way.
Gifts in Kind
Do you have items that you can donate? This may include:
Auction prizes to help us raise funds for our work
Products that we can include in our goody bags at challenge events
Resources that would reduce our organisation's running costs
Sponsor one of our events
Sponsoring one of our events not only supports us financially - it can also help your brand reach potential new customers.
Why choose us?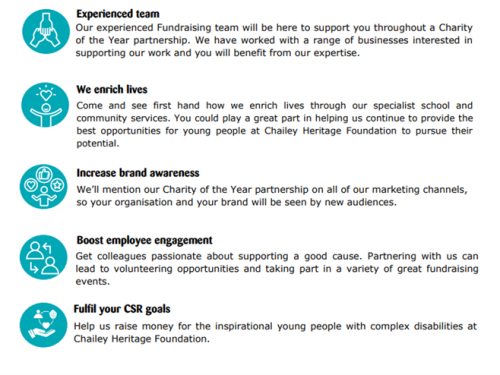 Find out More
The best way to find out about the work we do is to come and see us. Get in touch and we would be pleased to organise a tour. Or we can come and talk to you and your colleagues about the work that you could be supporting.
To find out how your business could support us, please call us on 01825 724 752 or email fundraising@chf.org.uk.
Download our Charity of the Year pack