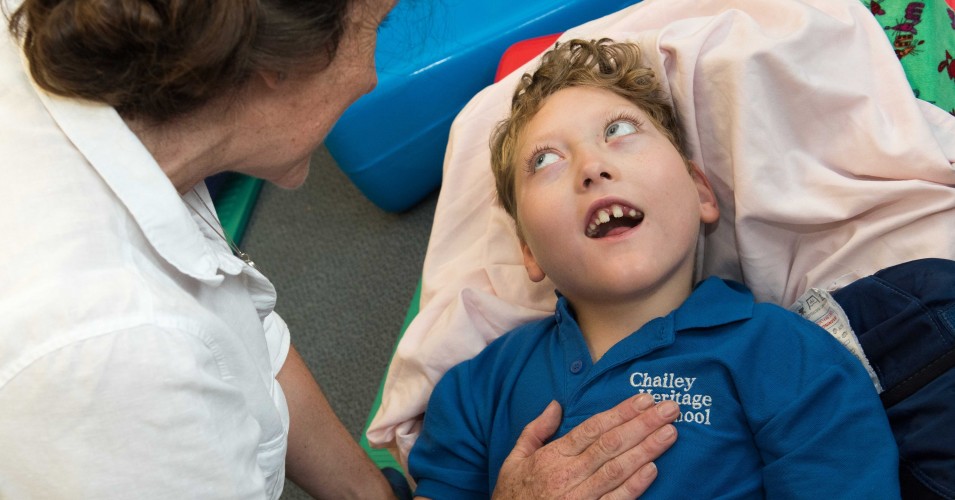 Meeting the Children's Health and Therapy Needs
Our unique on-site partnership with Chailey Clinical Services of Sussex Community NHS Foundation Trust allows therapy to be integral to every child's timetable. Therapists lead individual and small group sessions and provide in-class support and training to class staff. Therapists and specialist engineers are on hand to address altered and changing physical and postural needs.
The Chailey Clinical Services Team include:
Physiotherapists
Speech & Language Therapists
Occupational Therapists
Nursing Team
Consultant Paediatrician in Neurodisability
Over 30 specialist outpatient clinics
Dietitian
Rehabilitation Engineering Services
Therapy is integrated throughout the child's school day, supporting and enhancing their learning. Collaborative planning means that personal therapy and learning outcomes can often be achieved at the same time. Teachers and therapists work together to devise individual programmes and 'next steps' which can be incorporated into meaningful and fun activities.
Learning does not stop when care needs arise. Engaging individuals in aspects of eating, drinking and other personal care is an integral part of each young person's day. At the same time, important communicative, social, physical and even literacy and numeracy skills are developed in these everyday functional contexts. The class teams work closely with lunchtime and care staff to model and share ideas to maximise opportunities for developing each young person's holistic 'next steps'.
Dedicated & Passionate Staff
It is no surprise that a lot of staff and volunteers at Chailey Heritage Foundation stay with us for many years. With excellent teamwork and inspirational young people to work with, there is a real sense of making a difference and belonging to something very special.
Staff Expertise
We provide staff with a comprehensive rolling programme of specialist training and updates. We are committed to developing our practices in line with the very latest research and technological advancements.