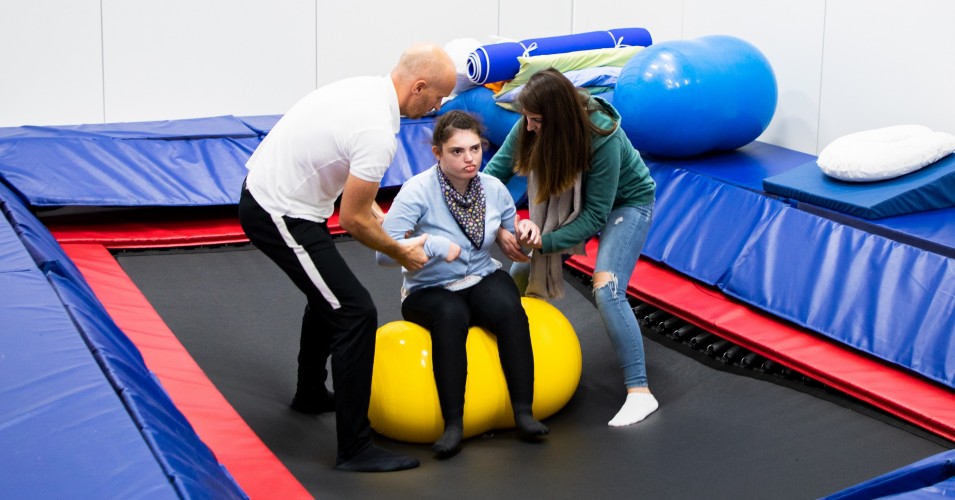 Rebound Therapy
Rebound Therapy is a fun exercise therapy which uses trampolines to provide opportunities for movement, therapeutic exercise and recreation for people with a wide range of different physical and learning disabilities.
Some of the many benefits of Rebound Therapy include developing and improvement of:
Strength of limbs
Numeracy
Patience
Communication
Co-ordination
Independence
Self-confidence
Balance
Muscle tone
Reaction speed
Self-image
Eye contact
Relaxation
Freedom of movement
Sense of achievement
Stamina
Spatial awareness
Body awareness
Social awareness
Consideration of others
Trust and confidence in Coach/Assistant
Colour recognition
Height and depth perception
Fun and enjoyment
Each session will last a maximum of 30 minutes and will be run by a certified Rebound Therapist Instructor.
In order to carry out a rebound therapy session a Physio Assessment will be undertaken by each new customer on their first visit. This will help us individually assess every customers physical needs and will help us construct a programme that can be followed during Rebound sessions focusing on working on a wide range of aims and goals that the customer may have. During each session the instructor will then take the customer through the programme ensuring that all of the exercises are carried out in the correct manner. There will always be as much fun thrown into the session as possible with music and games also provided to make the experience as enjoyable as possible.
Get in touch now to book a Rebound Therapy Assessment here.