Chailey Heritage Foundation is a pioneering charity providing education, care and transition services for children and young people with complex physical disabilities and health needs.
We are recognised as one of the UK's leading centres for children and young adults with neurological motor impairment such as Cerebral Palsy, and we have a national reputation for our work in supporting young people's communication and developing independence through powered mobility.
Our aim is to provide a stimulating and inclusive environment where all young people are given every opportunity to make progress towards fulfilment and develop life skills in preparation for adulthood.
Our charity encompasses Chailey Heritage School, Chailey Heritage Residential and Chailey Heritage Futures.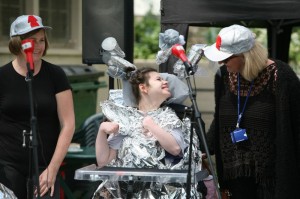 Chailey Heritage Foundation Latest News
On Friday 4th November we will be attending our local volunteer fair, hosted by High Weald Childrens Centres in partnership with Uckfield Volunteer Centre.
Friday 4th November 2016
10:00-12:00
Uckfield Civic Centre (The Green Room)
Uckfield, TN22 1AE
For more information on volunteering opportunities here at Chailey Hertiage Foundation please visit the volunteering secion of our website here.
view more